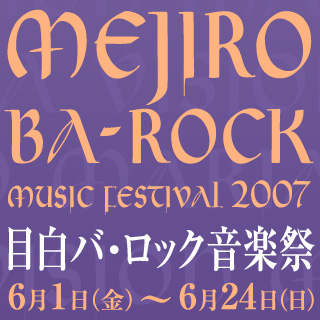 English Issue of Mejilog
by mejiro2007_en
For encode choose UNICODE (UTF-8)
>> mejiro BA-ROCK Web site
Blogger's Profile
Yuji Takahashi
Music journalist. Chief editor of
Mejiro Ba-Rock Music Festival 2007 Official Guidebook
カテゴリ
全体
未分類
以前の記事
2007年 06月
2007年 05月
フォロー中のブログ
最新のトラックバック
その他のジャンル
ファン
記事ランキング
ブログジャンル
画像一覧
Hiroaki Ooi' gave a clavichord recital at Wakeijuku on Tuesday 12th June. Programmed were the Art of Fugue (BWV 1080) and Musical Offering (BMV 1079). And the Unfinished Fugue complemented by Masato Suzuki was added to the program. The serenity which the venue provided and the thick sound realized only by Ooi's clavichord technique are one of the most impressive combinations of music and architecture at this festival.

Nicolau de Figueiredo harpsichord recital, held at Mejiro Anglican Church on Wednesday 13th, drove the audience into a trance by the prodigious performance with his abundant musical aspiration. Both J. H. d'Anglebert's Tombeau de Monsieur Chambonnieres and Antonio Soler's Fantango played for encore, Nicolau won an ovation which was almost frantic.

Claudio Cavina and La Venexiana appeared on stage at Toppan Hall on Thursday 14th for C. Monteverdi's Madrigale. "T'amo" is the word no one never uttered so expressively and sweetly as they sang, possibly, at least in Mejiro area.

Anthonello is one of two resident artist groups of this festival since it began 2005, and this year they had hit the premiere by Vespro. This time, on Friday 15th, Anthonello made a band of 11 artists including Adrian Rodriguez Van der Spoel and Rafael Bonavita. They recreated the impact of the initial contact of the Japan music scene with Western music in 16th century when the Counter-Reformation and Great Discovery interactively urged the penetration and fusion of Renaissance Music in Japan.
▲
by

mejiro2007_en

| 2007-06-15 23:00
Review over the Premiere Term of the Festival
(1st-10th June 2007)
Mejiro Ba-Rock Music Festival 2007 was launched on Friday 1st June with a big applause to Monteverdi's Vespro della Beata Vergine. At the matinee of Saturday 2nd Marie Nishiyama's harpsichord recital also received warm handclaps at the chapel of International Catholic Hospital (Virgin Mary Hospital). She performed Italian pieces of 17th century with a special harpsichord comfortably meantone-tuned. Mozart's clarinet concerto was played with Eric Hoeprich's basset clarinet on the evening of this day at Tokyo Metropolitan Art Space. For the 1st movement he showed marvelous improvisation, and his tempo rubato was attractively synchronized with Tokyo Bach Mozart Orchestra conducted by Masahiro Arita. Hiroaki Ooi's harpsichord recital were well-done at Mejiro Anglican Church on Sunday 3rd with all Bach program of Italian Concerto, French Overture, and Goldberg Variations. Marie Nishiyama and Nicolau de Figueiredo had harpsichord duo recital at Mejiro Anglican Church on Friday 8th. Their lighthearted play of Mozart's Sonata for Four Hands (K. 381) was finished with a cheerful applause.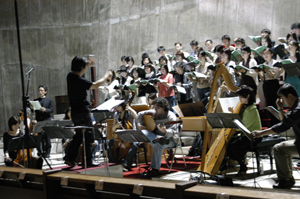 in rehearsal for Vespro




Enrico Gatti, violinist whom Mejiro Ba-Rock Music Festival is very much honored to invite, joined in Japanese young ensemble Recreation d'Arcadia, and they presented two different programs at Saint Paul University's Canteen-1 and Toppan Hall. Moreover they played Monteverdi's Selva morale e spirituale with Claudio Cavina and La Venexiana. The performance was unforgettable and applauded with a truly heartfelt bravo. And it is worthwhile mentioning that this featuring of Gatti, La Venexiana and R. A. was allowed to be realized exclusively at this festival.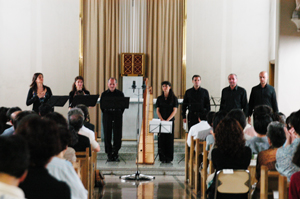 Claudio Cavina & La Venexiana




Claudio Cavina and La Venexiana gave another concert at the chapel of International Catholic Hospital. It was overwhelmingly intoxicating with Italian madrigale. The music was animated by the lyrics, the lyrics uplifted by the music.

Rafael Bonavita, theorbo and baroque guitar player, had a special tour for this festival. He played at the premiere with Anthonello on Friday 1st June. And he was warmly welcomed by old people at a nursing home and had a one-hour concert for them on Sunday 3rd. And the two-hour recital of Tuesday 5th touched and eased the heart of the audience at Hatoyama Hall, and at Kasoyo, Japanese traditional style cafe, on Thursday 7th Rafael's theorbo met Japan beauty. The other short program was done at Gallery Jun on Sunday 10th. He succeeded his performance at every occasion in front of full of audience. With his charm and passion to communicate with the audience he is one of the most beloved artists and no wonder his CD albums are the top sellers of this festival at this moment. Next he will appear with Anthonello at the Saint Mary's Cathedral on Friday 15th.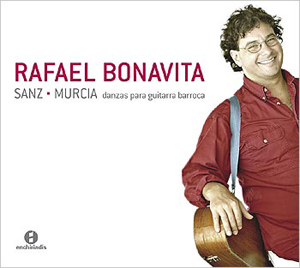 Rafael Bonavita (baroque guitar),
"Sanz, Murcia, danzas para guitarra barroca"
(enchiriadis, EN2015)
▲
by

mejiro2007_en

| 2007-06-11 22:12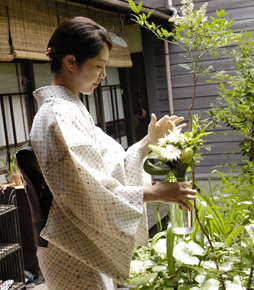 Rafael Bonavita Met Japan Beauty
for his theorbo recital at KASOYO, 7th June 2007.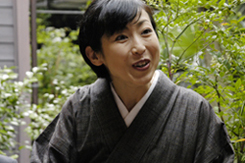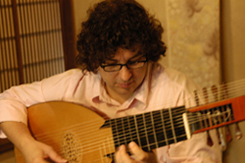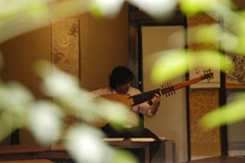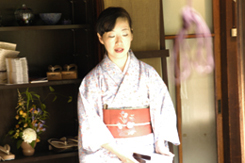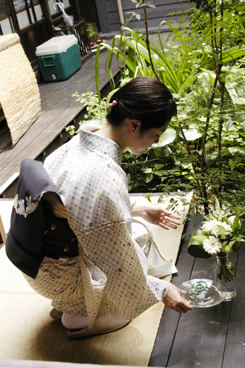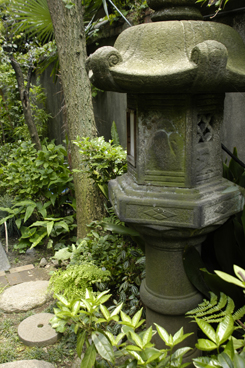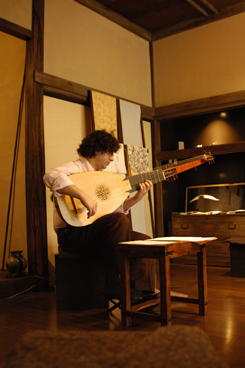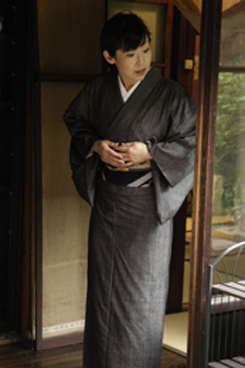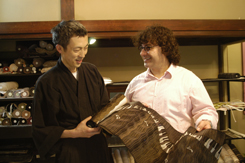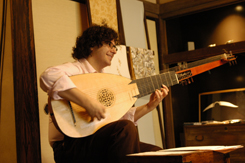 ▲
by

mejiro2007_en

| 2007-06-07 20:11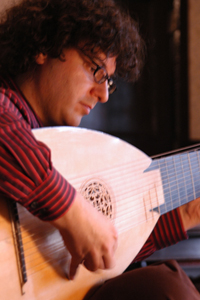 Reminiscent Sound Eases Your Heart
Rafael Bonavita, Theorbo Recital
A dim orange color of the twilight was melting away at a rose garden, when it was overlaid by somehow reminiscent sound of the theorbo wafting from a salon. Rafael Bonavita was sitting and playing the theorbo, a lute-like instrument, in front of the audience inside the Japanese modern-styled, historical house.

No doubt 14 strings of this instrument had never been plucked at this venue before. Its real sound and its repertoire of 17th century Italian music had been surely unknown to most of the audience. And Rafael Bonavita, born in Uruguay, came all the way from Madrid for this festival. Listening to the theorbo music in such an occasion was a rare and exceptional case to the audience. But mysteriously that was not unfamiliar. Everything matched, and was found at home and convincing.

Tone of gaiety with melancholic low-key sound was touching and healing a hidden part of your weeping woe. Soothed by tender subtleties of the pain of love (Bellerofonte Castaldi) and cheerful ostinato of Bergamasca (G. G. Kapsberger), you were allowed to indulge in a sweet sadness.

Rafael's perfect technique and marvelous concentration gave to the sound power and charm. And his passion to communicate with the audience would never be forgot.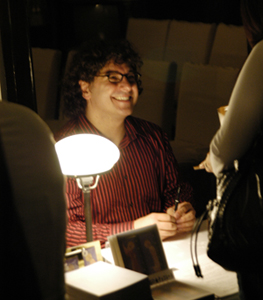 Venue and date: Hatoyama Hall, 5th June 2007
Program:
-Alessandro Piccinini,
Chiaccona
-Alessandro Piccinini,
Romanesca
-Bellerofonte Castaldi,
Ferita d'amore
-Bellerofonte Castaldi,
Sonata forastiera & Laurina corrente
-Giovanni Girolamo Kapsberger,
Toccata 12
-Giovanni Girolamo Kapsberger,
Toccata arpeggiata
-Bellerofonte Castaldi,
Collerica corrente
-Bellerofonte Castaldi,
Lusinghevole passeggio
-Alessandro Piccinini,
Corrente 5
-Alessandro Piccinini,
Toccata 12
-Alessandro Piccinini,
Corrente 10-6
-Anonymous (discovered by R. Bonavita)
-Giovanni Girolamo Kapsberger,
Passacaglia-Canario-Sferraina-Bergamasca
Encore:
-Giovanni Girolamo Kapsberger,
Kapsberger
▲
by

mejiro2007_en

| 2007-06-05 23:54
Goldberg Variations, Intriguing Interpretation
Variation 29 was neither fanfare nor climax. Hiroaki Ooi's performance sounded like Goldberg Variations doesn't want a melodramatic actor predicting or suggesting the ending Aria. Music simply continues everlastingly transfiguring. Like a whispering sounds of eternity?

Yes, his interpretation was challenging and intriguing. Perhaps it might be authentic. But he skipped almost all repeats. For what?

The program was big. Italian Concerto and French Overture had been played beforehand. That's the reason of Goldberg with no repeats?

I could get very close to his entire view of Goldberg, but not arrived yet.
Venue: Mejiro Anglican Church
Date: 3rd June 2007
Harpsichord: Ooi Hiroaki
Program:
J. S. Bach,
Italienisches Konzert
BWV 971
J. S. Bach,
Franzoesiche Ouvertuere
BWV 831
J. S. Bach,
Goldberg Variations
BWV 988
▲
by

mejiro2007_en

| 2007-06-03 23:07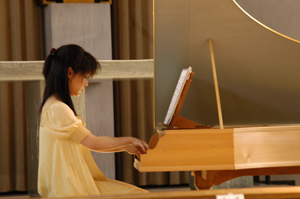 Marie Nishiyama Harpsichord Recital
17th century Italian Clavier Music
Programmed are eleven Italian short pieces of 17th century, which, aside from Girolamo Frescobaldi's, are not necessarily familiar to common Mejiro people. But that was not problematic at this banquet hosted by Marie Nishiyama. She started her service from Giovanni Picchi's Toccata e Ballo ditto il Pichi as "aperitif" to Tarquinino Merula's Toccata del secondo tono as "Cremona antipasto" eventually to G. Picchi's Pass' e mezzo as "Venetian dancing steak". Before serving each, she added to the audience a brief comment about its style and taste with relaxing atmosphere. Thus nobody felt alienated while listening to these unknown pieces.

On top of that the instrument she played was something special. Normally G sharp and A flat are different names of the same pitch. But as to this harpsichord, each of these two tones has its own key. Amazing! G sharp and A flat make physically different tones with different keys. And that enables to tune in "meantone" temperament even for this two-hour recital with various pieces. Using this instrument, it is possible to make any major third ideally comfortable. As the matter of fact it sounded "tasty".

For me that was quite a "speciality".
Venue: Chapel of International Catholic Church, Tokyo
Date: 2nd June
Harpsichord: Marie Nishiyama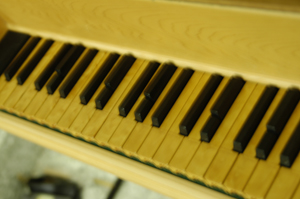 Different keys are assigned to G sharp and A flat as well as to D sharp and E flat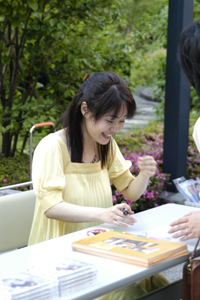 Outside the chapel after concert
▲
by

mejiro2007_en

| 2007-06-02 22:28
Why Monteverdi in Japan?
The answer is simple: because "WE DESIRE IT!"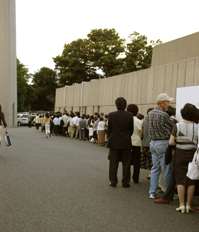 The premiere's tickets were sold out




Photo: People in line waiting for the opening.
▲
by

mejiro2007_en

| 2007-06-01 22:50
Mejiro Ba-Rock 2007 Premiered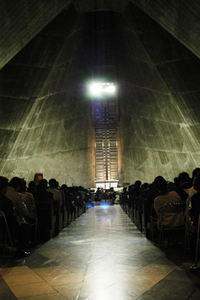 Conducted by Yoshimichi Hamada's vibrantly colored rhythms rich in nuance, Vespro shone St. Mary's Cathedral.

While conducting, Hamada also played the cornet solo. And it was witnessed that his exquisite sense of blowing and breathing was a source of the dynamism where the voices and instruments reunited themselves with exceptionally intimate sound.

The soul of 17th century Italian monks revived in Tokyo this evening through the uplifting chants and pious prayers elaborated with "rhythms of cantabile". It was monumental.
Information
St. Mary's Cathedral, Tokyo, June 1st
Naomi Hanai, Junko Takayama, Nobuaki Nanajo, Yosuke Taniguchi, Yasuto Kasuga, Yoshitaka Ogasawara,
Anthonello,
La Voce Orfica
Rafael Bonavita, theorbo
Conducted by Yoshimichi Hamada, cornet
Program:
Claudio Monteverdi,
Vespro della Beata Vergine
(1610)
▲
by

mejiro2007_en

| 2007-06-01 20:23