Review over the Premiere Term of the Festival
(1st-10th June 2007)
Mejiro Ba-Rock Music Festival 2007 was launched on Friday 1st June with a big applause to Monteverdi's Vespro della Beata Vergine. At the matinee of Saturday 2nd Marie Nishiyama's harpsichord recital also received warm handclaps at the chapel of International Catholic Hospital (Virgin Mary Hospital). She performed Italian pieces of 17th century with a special harpsichord comfortably meantone-tuned. Mozart's clarinet concerto was played with Eric Hoeprich's basset clarinet on the evening of this day at Tokyo Metropolitan Art Space. For the 1st movement he showed marvelous improvisation, and his tempo rubato was attractively synchronized with Tokyo Bach Mozart Orchestra conducted by Masahiro Arita. Hiroaki Ooi's harpsichord recital were well-done at Mejiro Anglican Church on Sunday 3rd with all Bach program of Italian Concerto, French Overture, and Goldberg Variations. Marie Nishiyama and Nicolau de Figueiredo had harpsichord duo recital at Mejiro Anglican Church on Friday 8th. Their lighthearted play of Mozart's Sonata for Four Hands (K. 381) was finished with a cheerful applause.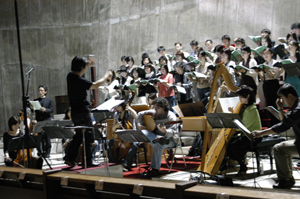 in rehearsal for Vespro




Enrico Gatti, violinist whom Mejiro Ba-Rock Music Festival is very much honored to invite, joined in Japanese young ensemble Recreation d'Arcadia, and they presented two different programs at Saint Paul University's Canteen-1 and Toppan Hall. Moreover they played Monteverdi's Selva morale e spirituale with Claudio Cavina and La Venexiana. The performance was unforgettable and applauded with a truly heartfelt bravo. And it is worthwhile mentioning that this featuring of Gatti, La Venexiana and R. A. was allowed to be realized exclusively at this festival.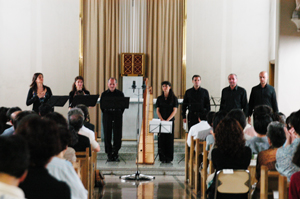 Claudio Cavina & La Venexiana




Claudio Cavina and La Venexiana gave another concert at the chapel of International Catholic Hospital. It was overwhelmingly intoxicating with Italian madrigale. The music was animated by the lyrics, the lyrics uplifted by the music.

Rafael Bonavita, theorbo and baroque guitar player, had a special tour for this festival. He played at the premiere with Anthonello on Friday 1st June. And he was warmly welcomed by old people at a nursing home and had a one-hour concert for them on Sunday 3rd. And the two-hour recital of Tuesday 5th touched and eased the heart of the audience at Hatoyama Hall, and at Kasoyo, Japanese traditional style cafe, on Thursday 7th Rafael's theorbo met Japan beauty. The other short program was done at Gallery Jun on Sunday 10th. He succeeded his performance at every occasion in front of full of audience. With his charm and passion to communicate with the audience he is one of the most beloved artists and no wonder his CD albums are the top sellers of this festival at this moment. Next he will appear with Anthonello at the Saint Mary's Cathedral on Friday 15th.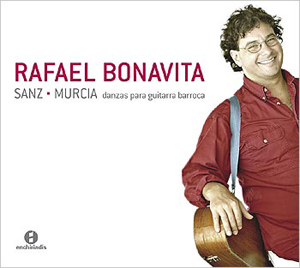 Rafael Bonavita (baroque guitar),
"Sanz, Murcia, danzas para guitarra barroca"
(enchiriadis, EN2015)