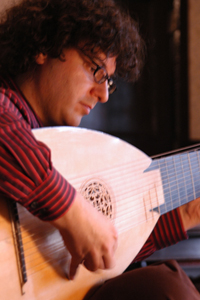 Reminiscent Sound Eases Your Heart
Rafael Bonavita, Theorbo Recital
A dim orange color of the twilight was melting away at a rose garden, when it was overlaid by somehow reminiscent sound of the theorbo wafting from a salon. Rafael Bonavita was sitting and playing the theorbo, a lute-like instrument, in front of the audience inside the Japanese modern-styled, historical house.

No doubt 14 strings of this instrument had never been plucked at this venue before. Its real sound and its repertoire of 17th century Italian music had been surely unknown to most of the audience. And Rafael Bonavita, born in Uruguay, came all the way from Madrid for this festival. Listening to the theorbo music in such an occasion was a rare and exceptional case to the audience. But mysteriously that was not unfamiliar. Everything matched, and was found at home and convincing.

Tone of gaiety with melancholic low-key sound was touching and healing a hidden part of your weeping woe. Soothed by tender subtleties of the pain of love (Bellerofonte Castaldi) and cheerful ostinato of Bergamasca (G. G. Kapsberger), you were allowed to indulge in a sweet sadness.

Rafael's perfect technique and marvelous concentration gave to the sound power and charm. And his passion to communicate with the audience would never be forgot.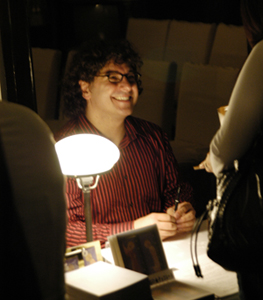 Venue and date: Hatoyama Hall, 5th June 2007
Program:
-Alessandro Piccinini,
Chiaccona
-Alessandro Piccinini,
Romanesca
-Bellerofonte Castaldi,
Ferita d'amore
-Bellerofonte Castaldi,
Sonata forastiera & Laurina corrente
-Giovanni Girolamo Kapsberger,
Toccata 12
-Giovanni Girolamo Kapsberger,
Toccata arpeggiata
-Bellerofonte Castaldi,
Collerica corrente
-Bellerofonte Castaldi,
Lusinghevole passeggio
-Alessandro Piccinini,
Corrente 5
-Alessandro Piccinini,
Toccata 12
-Alessandro Piccinini,
Corrente 10-6
-Anonymous (discovered by R. Bonavita)
-Giovanni Girolamo Kapsberger,
Passacaglia-Canario-Sferraina-Bergamasca
Encore:
-Giovanni Girolamo Kapsberger,
Kapsberger