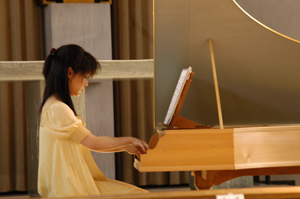 Marie Nishiyama Harpsichord Recital
17th century Italian Clavier Music
Programmed are eleven Italian short pieces of 17th century, which, aside from Girolamo Frescobaldi's, are not necessarily familiar to common Mejiro people. But that was not problematic at this banquet hosted by Marie Nishiyama. She started her service from Giovanni Picchi's Toccata e Ballo ditto il Pichi as "aperitif" to Tarquinino Merula's Toccata del secondo tono as "Cremona antipasto" eventually to G. Picchi's Pass' e mezzo as "Venetian dancing steak". Before serving each, she added to the audience a brief comment about its style and taste with relaxing atmosphere. Thus nobody felt alienated while listening to these unknown pieces.

On top of that the instrument she played was something special. Normally G sharp and A flat are different names of the same pitch. But as to this harpsichord, each of these two tones has its own key. Amazing! G sharp and A flat make physically different tones with different keys. And that enables to tune in "meantone" temperament even for this two-hour recital with various pieces. Using this instrument, it is possible to make any major third ideally comfortable. As the matter of fact it sounded "tasty".

For me that was quite a "speciality".
Venue: Chapel of International Catholic Church, Tokyo
Date: 2nd June
Harpsichord: Marie Nishiyama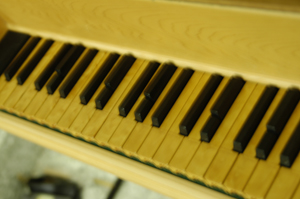 Different keys are assigned to G sharp and A flat as well as to D sharp and E flat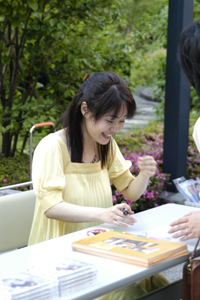 Outside the chapel after concert