Mejiro Ba-Rock 2007 Premiered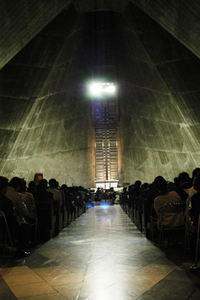 Conducted by Yoshimichi Hamada's vibrantly colored rhythms rich in nuance, Vespro shone St. Mary's Cathedral.

While conducting, Hamada also played the cornet solo. And it was witnessed that his exquisite sense of blowing and breathing was a source of the dynamism where the voices and instruments reunited themselves with exceptionally intimate sound.

The soul of 17th century Italian monks revived in Tokyo this evening through the uplifting chants and pious prayers elaborated with "rhythms of cantabile". It was monumental.
Information
St. Mary's Cathedral, Tokyo, June 1st
Naomi Hanai, Junko Takayama, Nobuaki Nanajo, Yosuke Taniguchi, Yasuto Kasuga, Yoshitaka Ogasawara,
Anthonello,
La Voce Orfica
Rafael Bonavita, theorbo
Conducted by Yoshimichi Hamada, cornet
Program:
Claudio Monteverdi,
Vespro della Beata Vergine
(1610)